Created specifically with farmers' needs in mind, Unium's Seed Treatments offer yield enhancing solutions with innovative formulation technology for ease of application.
Unium's seed treatment complexes contain a unique blend of nutrients and metabolites – compounds involved with plant growth and development – which are proven to support and enhance crop germination and establishment.
Our seed treatments have been shown to offer a host of crop benefits whilst offering a cost-effective solution to growers.
New for 2020 season are our latest developments – UNI-CAL ST/aCalsa ST these are novel potato seed treatments based on a unique calcium phosphite WP formulation.  Easy to apply with a great return on investment.
                 Good content isn't about good story telling.  It's about telling a true story well.
A. Handley

The Response over Untreated in Winter Wheat 2018-2019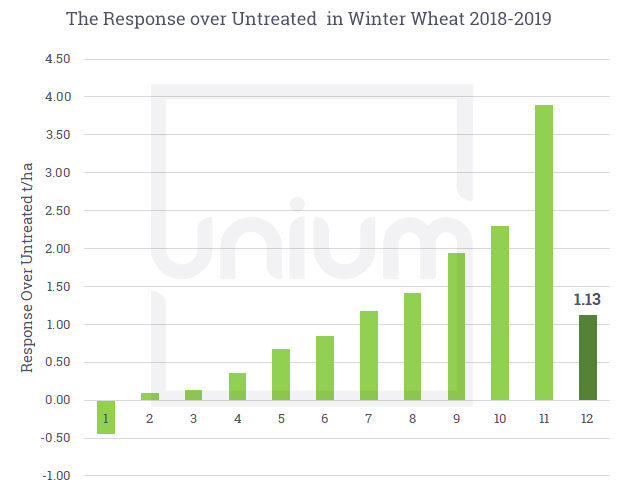 The majority of these trials were on late drilled crops (post mid October) where the requirement is greater and the response larger.  Experience suggests for early drilled crops e.g. September an average of 0.4- 0.5 t/ha is more realistic.